Main
Games
CounterStrike
Deus Ex
Diablo
Diablo II
Doom III
Neverwinter Nights
Starcraft / Broodwar
VGA Planets 4
Quake II
Quake III Arena
Ultima Online
Warcraft II
Message Boards
General
Linux
Sandbox
Guilds
Contact
Search


Planets 4
Download
Things to know
Knowledge Map
Races
Ships
Bases
Planets
Other Objects
Tools
Misc.

Planets 4!
---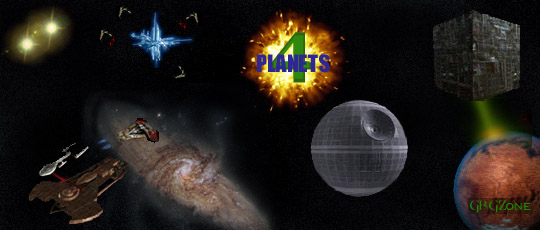 VGA Planets 4 is a turn based multiplayer game. Where each player can plot strategies more leisurely than real time strategy games. Turns are usually one a day, but could be more or less depending on the host and people playing.
Each player controls one empire in a galaxy. Players explore the area around them, gather or develop resources, research technologies, build infrastructure and create spaceships and ground combat units to defeat the other players.

If you are just starting, there is a lot of information available, I would recommend going to the download page and start downloading the game while picking out a Race. After that read How to play. Then read at least the first page of Things to know. You can look into the deeper links once you get started. I hope this site proves useful in learning how to play VGA Planets 4.

About this site.